The LOGIC PUZZLE MUSEUM, a non-profit, educational hands-on museum and tourist attraction; is in the same building, with the same entrance door, as the Spinning Top & Yo-Yo Museum.
Each museum here has different hours ( the two museums are are not open at the same time) but the DRIVING DIRECTIONS ARE THE SAME.
See you in downtown, Burlington, Wisconsin, USA.
533 Milwaukee Avenue, Burlington, Wisconsin, 53105 USA
HARK! If arriving from the North, Hwy 36 is part of the bypass now, so it doesn't bring you into downtown anymore. You must exit from Hwy. 36 to "Historic Downtown Burlington/Milwaukee Avenue"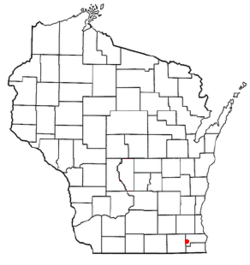 Logic Puzzle Museum: Burlington, Wisconsin, USA
marked by the red dot in Southeastern Wisconsin
How far are we from you?
From Chicago, IL: just under 2 hour drive
Milwaukee, WI : about 40 minutes
Lake Geneva, WI: about 12 minute drive
Ames, Iowa: about 5 1/2 hours drive
Racine, Wisconsin: about 30 minute drive
Madison, Wisconsin: about 1 hr. 45 minutes
Janesville, Wisconsin, about 45-50 mnutest
Waukesha, Wisconsin, about 30 minute drive
Verona, Italy: about 15 hours (first air, then car)
Wonderful News!
Parking is free up to two hours on the street
and free all day in city parking lots.
Always call ahead for tickets, as space is limited
and certain times may already be booked by a group.
(262) 763-3946
_______________________________
So please click here to link
to the Logic Puzzle Museum
driving directions
& free parking information:

_______________________
and the
Logic Puzzle Museum CATALOG
Spinning Top & Yo-Yo Museum CATALOG