Create Your Own Puzzling
Historic Rebus Valentine Messages
or Use Year-Round Rebus Messages
~ A HANDS-ON WORKSHOP ~
Sun. Feb. 2, 2020 or Sun.Feb. 9, 2020 2-4 pm
(or other times for your group of 8 people or more)

Advance Phone Registration required
~ Create fun & funny historic-style Rebus Valentine messages and notes
using pictures, words and letters for a cryptic puzzling message.
~ Send the thoughts of your heart in this original way this year via cards,
notes, fun envelopes, little refrigerator magnets and/or door hangers.

~ You may make up to 30 unique Valentines or other messages,
all materials and professional instruction are included.
~ Lots of ready-made images, draw your own, or use our speedy images.
~ The examples on this page are very simple & quick examples
& just a tiny little glimpse of what a rebus is.
~Elaborate samples are displayed in the workshop to inspire you,
or to copy as you like.

~ The workshop offers hundreds of possibilities, complexities,
& varieties using detailed and colorful images from
line drawings to realistic pictures.
~Even write an entire letter like this so someone special!
~ The workshop examples will inspire you, of course,
and its great to be around others
where ideas abound and everything is ready for you to use.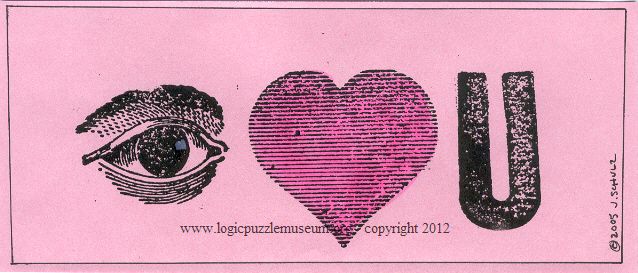 This workshop is great for individuals, families, kids,
Scout troops, senior groups and you!
Workshop is for ages 7-107, though not younger;
a workshop session is 2 hours
All materials provided to make up to 30 items including a variety of
rebus cards, notes, letters, magnets, door hangers or postcards.
Materials include some colorful materials in pinks, reds, silvers and more.

Workshop fee: $14/per person, includes materials.
Children under age 10 must be with a paying & participating adult.
Children 10 and older may attend without an adult. Call for details.
Reservations are required for all sessions, as space is limited.
OTHER TIMES CAN BE ARRANGED FOR GROUPS OF 8 or more
with advance registration and payment. Just give us a call to set up a time for your group.


~ The Rebus Valentine Messages Workshop is presented by the non-profit, educational
Teacher Place & Parent Resources and the Logic Puzzle Museum ~


(262) 763-3946
Free parking

C-U-soon